Integrated Marketing, Social Media, Photography, Graphic Design, Creative Direction
St. John's Parish Day School (SJPDS) is a private school located in Howard County, MD that serves students aged 3 through 5th grade. As their Director of Marketing and Communications, I developed and implemented ongoing marketing and communications strategies to promote the unique value of the school and disseminate information within the school community, resulting in an engaged community, improved exposure, and lead generation.
As an independent school, SJPDS relies on student enrollment to run efficiently. The COVID-19 pandemic caused a decline in student enrollment numbers for the coming 2020-2021 school year as families were hesitant to commit due to fear of COVID-19 infections and uncertainty of the future. Starting in the spring of 2020, the school leadership decided to host additional virtual and in-person open houses and offer parents options for in-person, hybrid, and virtual learning to address parent concerns, cater to family needs and improve enrollment.
• Increase open house attendance and enrollment for the 2020-2021 school year during the summer and fall months 
• Position SJPDS as committed and flexible in navigating uncertainty to continue providing purposeful education in a safe and nurturing environment 
• Generate visibility for SJPDS among the Pre-K-5 audience and surrounding community 
• Secure earned and paid media placements in community and educational outlets.
To accomplish these goals, I implemented an integrated marketing communications "Open and Here for You" campaign across print and digital, which was focused on appealing to what parents sought: a rich education, dedication to health and safety, a nurturing and community-focused environment, their choice of learning option, and transparency with COVID-19 protocols- all of which SJPDS provides. We also promoted SJPDS's proven track record of keeping students and staff safe during in-person summer camp in 2020, which allowed a test run of reopening and addressing any concerns before the school year began in the fall. 

We successfully positioned SJPDS to the Pre-K-5 target market and had an increase in Open House registrants - one event had over 50 participants - increasing enrollment by 12% in the summer and fall of 2020 and by 20% for the 2021-2022 school year. We also secured 10 media placements in community and educational outlets.

Social Media 
The school's social media is one of the best channels to engage and connect with current and potential families organically.  I captured and shared content of students engaging in summer camp activities, socially distanced classroom setups, and staff conducting health screenings to give viewers an inside look into safety practices, the ongoing success of the summer camp program and to promote admissions. We also invited interested families to review our reopening policies on our website, with calls to action to inquire and apply.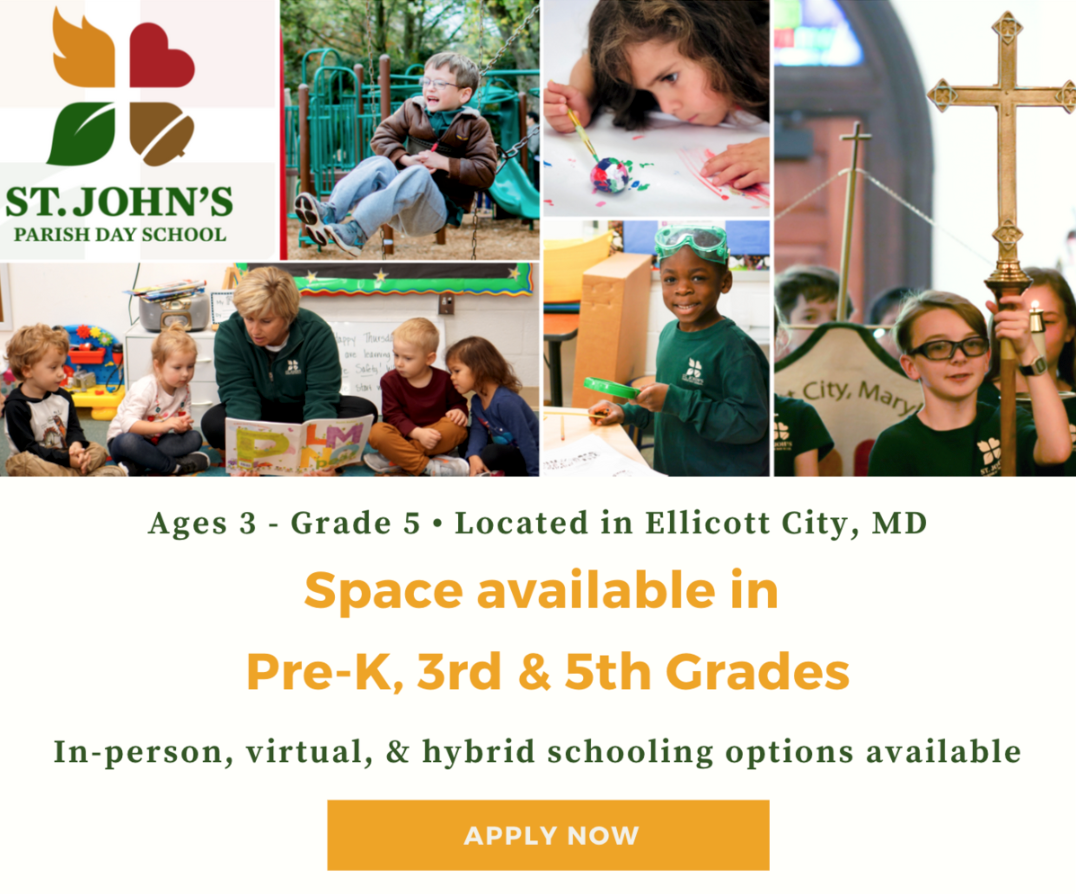 Digital Advertisements
I worked with ReachLocal, an online marketing company,  to run search engine marketing and social media advertisements promoting open house events, learning options, and safety protocols.
Print & Display Advertisements
To promote enrollment and increase brand awareness within the surrounding community, we placed a standee ad at the Mall in Columbia's food court, which receives tons of traffic, including from families of young children. I designed the ad highlighting key parent wants for schooling during the pandemic, such as enhanced safety measures. Other advertisements include flyers placed at surrounding grocery stores and popular family restaurants, lawn signs placed at busy intersections, and a feature in
Baltimore Fish Bowl Magazine
on the school's new STEM program and flexible learning options.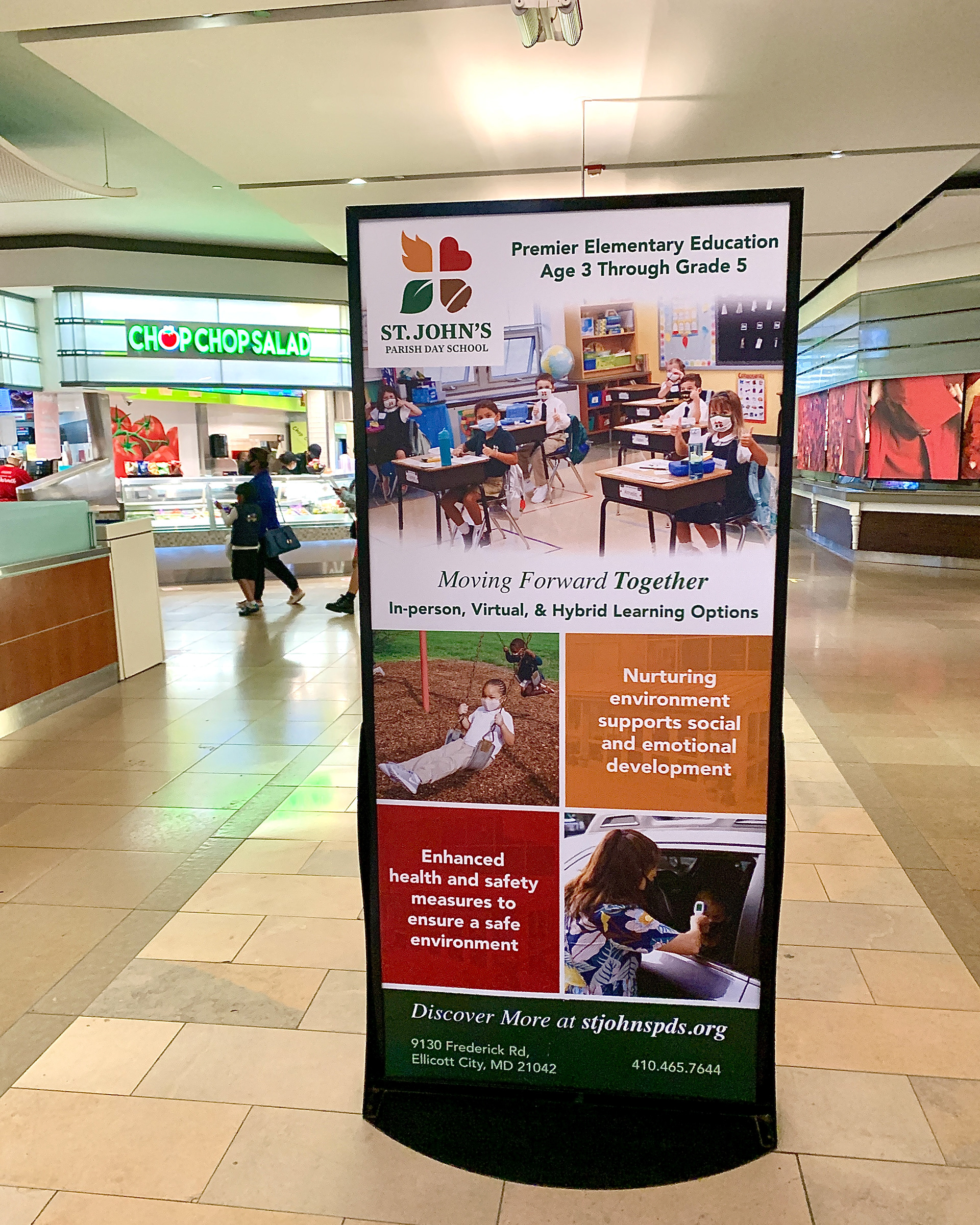 Word of Mouth 
Current families are the best ambassadors to help promote the school. We asked families to leave reviews on school listing sites such as Niche and Private School Review about their experience and satisfaction with how St. John's navigated the shutdown and reopened the school. We also invited the school community to share promotions on their personal social media platforms and with family and friends who might benefit from St. John's personalized and purposeful approach.
Commercial
I directed a commercial showcasing the school in partnership with the Howard County Chamber of Commerce as a CGI communications community project. This video is featured on Howard County Chamber website's education section and is also used for the St. John's website homepage, the admissions page for a video tour, and Youtube advertisements. To date, it has received